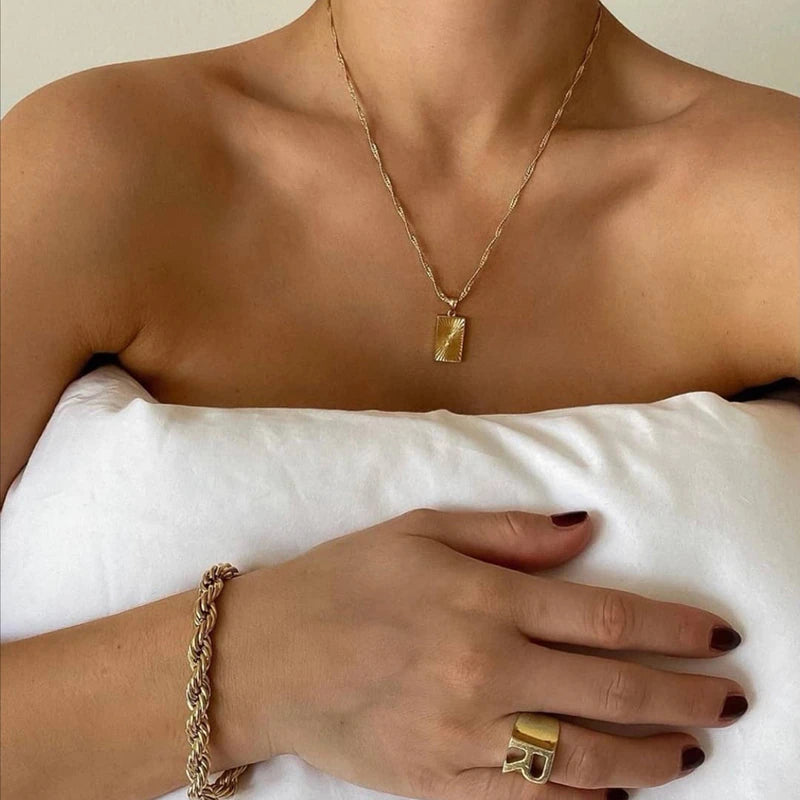 Jewellery Care Guide
At our workshop, we craft each piece of jewellery with great care, intending it to be cherished by you. With adequate maintenance, it will remain dazzling for years to come. We stand behind the excellence of our creations and provide a one-year warranty to cover any potential defects in materials or workmanship.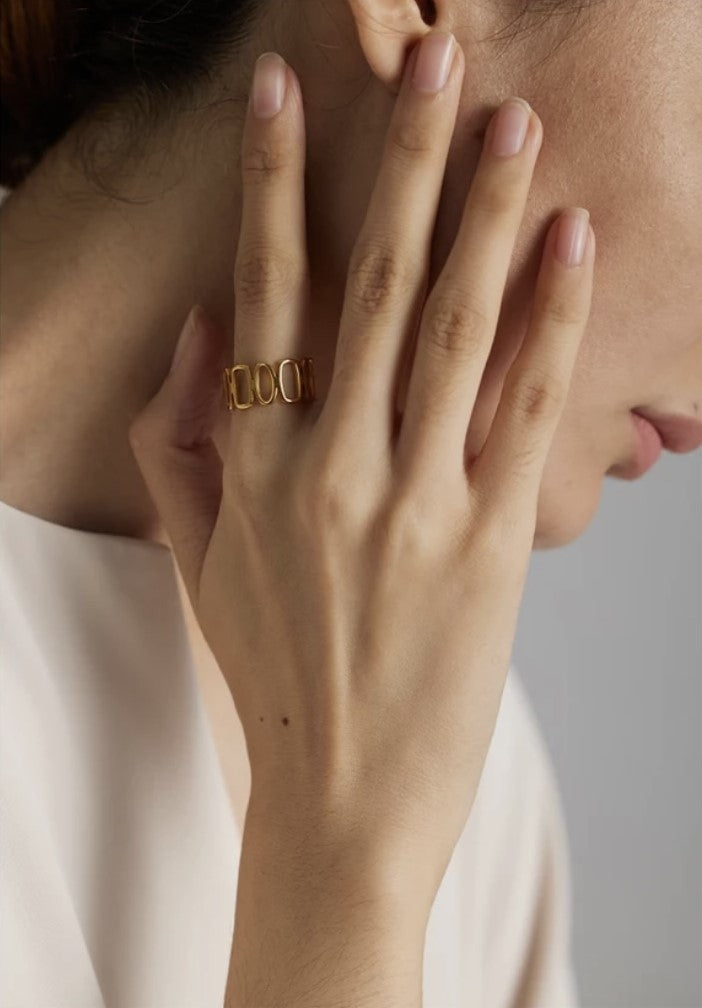 HOW TO WEAR
Avoid catching delicate pieces by putting them on last and taking them off first.
Keep jewellery safe by removing it before swimming or showering.
Avoid wearing jewellery during manual work or sports.
Limit contact with substances like perfumes and cleaning products.
Note that your skin's pH balance can affect your jewellery's condition.
HOW TO STORE
Store it in a safe, dry place when not in use to protect it from daily exposure.
Store pieces separately to prevent damage.
Make sure the pieces are completely dry before storing them.
Some metals, like vermeil and sterling silver, are prone to tarnishing, so it's better to store them in an anti-tarnish microsuede-lined Leather Jewellery Box.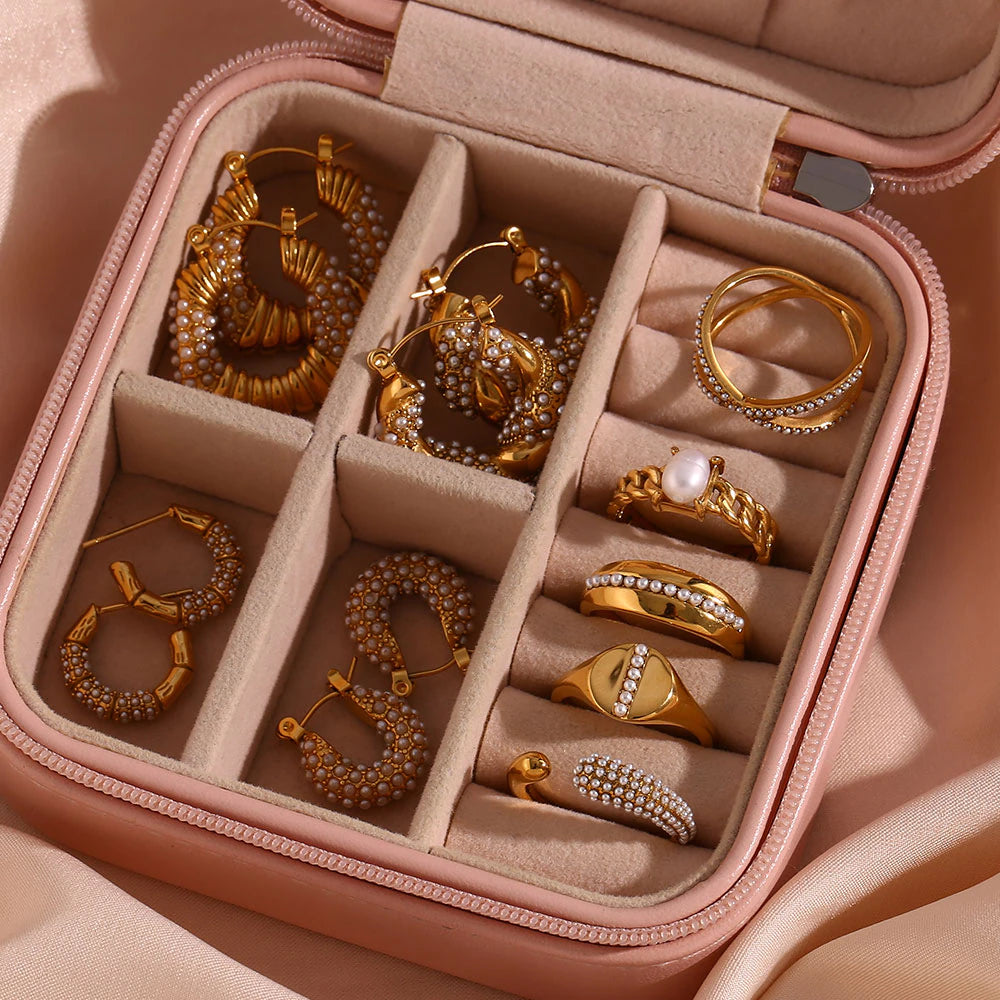 CARE GUIDE BY MATERIAL
14K Solid Gold
When properly cared for, our 14k solid gold pieces can last a lifetime. The metal's subtle hue will not oxidize or discolor, making it perfect for everyday wear.
It's important to keep in mind that 14k gold is more durable than 18k gold, but it's still susceptible to scratching and bending. Avoid wearing your 14k gold jewelry during physically demanding activities to prevent damage.
To keep your gold jewelry looking its best, store it in a dry, safe place when not being worn. Regularly cleaning your jewelry with a soft-bristled brush or cloth, warm water, and detergent-free soap can help maintain its shine. Avoid using abrasive cleaners, and consider using our Jewellery Care Kit.
Ultrasonic cleaners are safe to use on 14k gold jewellery and can be used to clean your pieces periodically. With gentle care and attention, your 14k gold jewelry can stay beautiful for years to come.
Gold Vermeil
Our vermeil jewelry is made with a thick layer of 18k solid gold on sterling silver, providing the look and feel of gold jewelry at a fraction of the price. However, it's important to note that vermeil will naturally tarnish over time, especially when exposed to environmental factors like air pollution, moisture, and sulfur-containing substances.
To keep your vermeil jewelry looking its best, store it in a safe, dry place with the anti-tarnish strip that came with your purchase. Our jewelry cases are lined with an anti-tarnish microsuede fabric for easy care.
Regular cleaning is essential to prevent tarnish from setting in. Simply wipe your pieces with a soft, damp cloth to remove any buildup. For more stubborn tarnish, gently buff your jewelry with a polishing cloth or use our Jewelry Care Kit. Be cautious with polishing cloths, as they can be abrasive if used too aggressively.
By taking proactive steps to care for your vermeil jewelry, you can keep it looking beautiful for years to come.
Sterling Silver
925 Sterling Silver is a lightweight metal made of 92.5% pure silver, which makes it highly durable and perfect for everyday wear.
What to know about wearing sterling silver jewelry:
To prolong the lifespan of your sterling silver jewelry, proactive maintenance is key. Clean it regularly by wiping with a soft, damp cloth. To remove tarnish, buff gently with a silver polishing cloth, or use our Jewelry Care Kit. Ultrasonic cleaners are also safe to use on silver jewelry.
It's worth noting that if you're wearing pieces made of oxidized silver, they require different cleaning. Oxidized silver has a special finish, so we recommend a dry clean—no water or silver cleaning polish—otherwise, the finish may rub off entirely.
How to store sterling silver jewelry:
Store your jewelry in a safe, dry place with the anti-tarnish strip that came with your purchase to protect it from the elements of daily exposure. All of our Jewelry Cases have an anti-tarnish microsuede lining for easy care.
Titanium
Titanium is a lightweight and highly durable material that resists corrosion, making it an excellent choice for jewelry. With proper care, titanium jewelry can maintain its appearance for a lifetime.
What to know about wearing titanium jewelry
Although titanium is incredibly strong, it can still get scratched with daily wear. It's important to be mindful of how you wear your jewelry and avoid physically challenging activities that could damage it.
If you have black titanium jewelry, be aware that its tough surface may abrade softer metals like gold or silver when stacked together.
How to store titanium jewelry
When not in use, store your titanium jewelry in a safe and dry place to protect it from the elements of daily exposure.
How to clean titanium jewelry
You can clean your titanium jewelry by using warm, soapy water and a soft cloth, or by using our Jewelry Care Kit. Ultrasonic cleaners are also safe to use on titanium jewelry.
Gemstones
Our jewellery features an exquisite selection of genuine mineral gemstones that are treasured for their unique beauty, rarity, and longevity. We use only the finest natural gemstones to create our jewellery.
What to know about wearing gemstone jewellery
As gemstones have different levels of hardness, it's essential to treat them with care to maintain their beauty.
Some colored gemstones are prone to discoloration and fading when exposed to environmental factors such as sunlight, saltwater, perspiration, and chemical irritants like chlorine, lotions, and cosmetics.
How to store gemstone jewellery
When not in use, store your gemstone jewellery in a dry, secure place to shield it from daily exposure to the elements.
How to clean gemstone jewellery
Avoid using steam cleaners or ultrasonic cleaners on colored gemstones, as these methods can damage or discolor the stones permanently. For rubies and sapphires, gently clean with warm water, non-detergent soap, and a soft-bristled brush.
Pearls
At our jewelry store, we carefully select cultured pearls from oysters and freshwater mussels, prized for their beauty and elegance. To keep your pearl jewelry looking its best, follow these care guidelines:
What to know about wearing pearl jewellery
Pearls are delicate and require special care. Avoid exposing them to harsh chemicals, extreme temperatures, or direct sunlight, which can cause discoloration, drying, or cracking. To maintain the luster and beauty of your pearls, wear them often, as the natural oils from your skin can help prevent them from drying out.
How to store pearl jewellery
When not being worn, store your pearls in a soft pouch or a separate compartment of your jewelry box. Avoid storing them with other jewelry that can scratch or damage their surface. To prevent cracking or drying, never store pearls in a dry environment, such as a safe or a drawer without proper humidity control.
How to clean pearl jewellery
Gently clean your pearls with a soft, damp cloth or a mild soap solution, then rinse with lukewarm water and pat dry with a soft towel. Do not use harsh chemicals, abrasive cleaners, or polishing cloths, as these can damage the surface of the pearls. Also, avoid using steam or ultrasonic cleaners, which can loosen the pearls from their settings or alter their natural color. With proper care, your pearls will remain a cherished addition to your jewelry collection for years to come.